When: 5/1/2010 6:00:00 PM
Ends: 5/2/2010 6:00:00 AM
Where: 134 E McNab Rd, Pompano Beach, FL 33060, USA
Category: tournaments
What: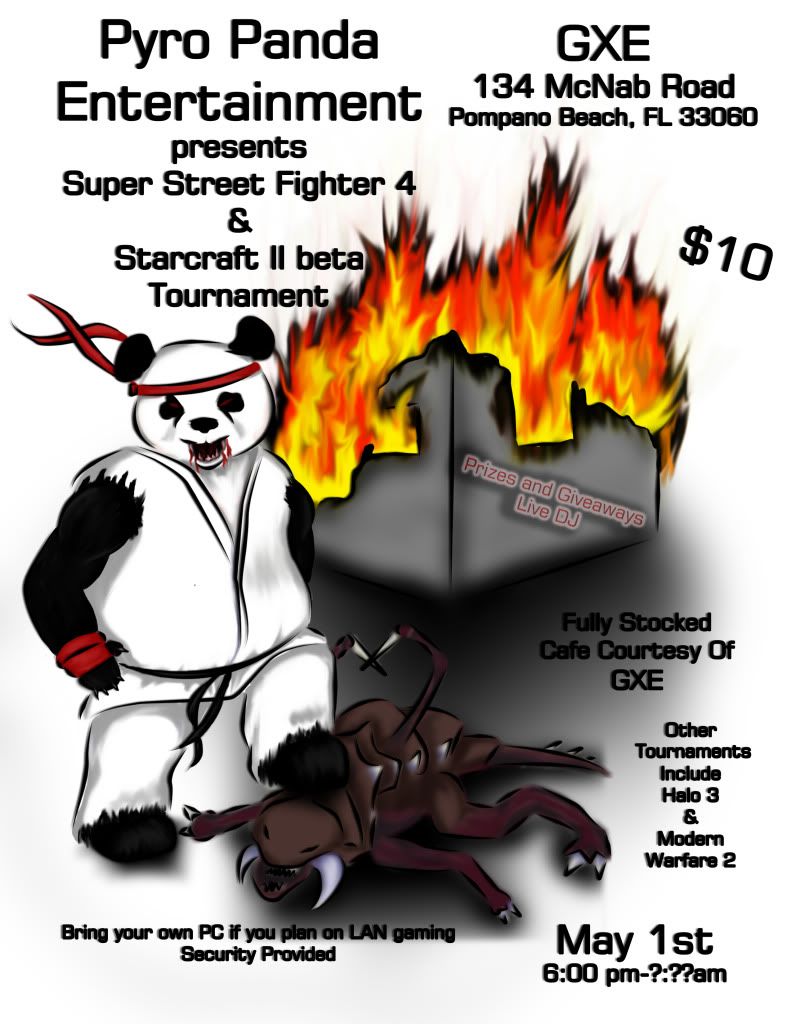 Pyro Panda Entertainment proudly brings to you our first event @ gXe (Geek Xtreme Entertainment) Saturday, May 1st. Featuring: Super Street Fighter 4 Release tournament, Hands-On/Tournament w/ Starcraft 2 Beta (1v1 / 2v2 games), Halo, Modern Warfare 2, and more!" This event will cost $10 admission and will run from 6pm - Sometime very late (or early) in the AM.
We will be hosting a section for hands on, Q&A, and livestream tournament action for the Starcraft 2 beta. Also, we will be setting up numerous XBOX units on projection screens to celebrate the release of SSF4. We will also have tournaments for a number of titles, prizes to give away, and contests running through out the duration of the evening.
Our event will also feature (but not limited to):
-Live commentary for all Esport related games.
-A fully stocked and diverse cafe courtesy of gXe (Menu coming soon)
-Energy drinks including: Bawls, Red Bull, Monster etc.
-Music through a live DJ.
-Prizes and give-aways.
-An inside look @ Pyro Panda Pirate Radio PODcast.
-A diverse LAN event featuring multiple platforms.
-Live interviews and streaming with players and spectators alike.
-Fully functional ladder system that will be posted on our site and carried through all future events.
-A tournament system that is friendly to casuals, caters to pros, and keeps players gaming.
-On duty security to maintain a safe and clean atmosphere for all gamers.
FAQ: Regarding the event
Q: What should I bring with me to sustain myself through the duration?
Well that really depends on what you plan on doing for the majority of the evening. We will be providing the Starcraft 2 Beta boxes. Aside from that, all computer LAN play is "bring your on box" to participate. We will be providing switches, tables, chairs, and an ideal gaming atmosphere for you to game within. If you plan on PC gaming, bring the obvious supplies: Ethernet cable, mouse, keys, etc.
Now as far as the console gaming goes, we will be providing everything. If you wish to bring your own controls or gaming sticks, by all means, do so. We will have around six XBOXs running on projector screens.
Aside from that, not to much else is required to participate. We recommend bringing money for food and snacks at the cafe as no food or drinks will be allowed from the outside.
Q: What is your policy on smoking / drinking on site?
There will be no smoking inside of the building, however, you are free to smoke outside as long as you are respectful to the property. Alcohol and/or intoxicating substance of any kind will result in ejection from the event without a refund. While we are a mature gaming community, there are younger gamers that enjoy our events as well.
Q: What if do not wish to participate in the tournaments but skirmish instead?
While partaking in tournaments is not required, we highly recommend doing so to enhance your experience. We are aiming to create a community that focuses on the concept of Esports. Hence why the ladder system is being worked into place. Again, if you choose to come to our events to do your own thing, by all means, do so. As long as people are having fun, we are doing our service to you.
Q: Most people have not spent any time with the Starcraft 2 beta. How can you run a fair tournament with this fact in mind?
Simple, the Starcraft 2 tournament is merely to provide players with the hands-on experience of the new Blizzard title. We will be commentating matches, assisting players with build orders, and helping new players understand the mechanics. In short, the beta will not be ranked on our official ladder as it is a beta. We will have our official Starcraft 2 ladder begin when the game launches. But do not let this stop you from having a blast with our beta keys!
Q: Help! My computer is having issues in the middle of the event! I need to get back into the game ASAP!
We have certified computer technicians that will be working the event to assist you in any computer trouble you may have to get you back in the game. With that being said, please do not visit 4chan prior to the event date.
More Info: http://www.pyropanda.com
Results: http://www.pyropanda.com